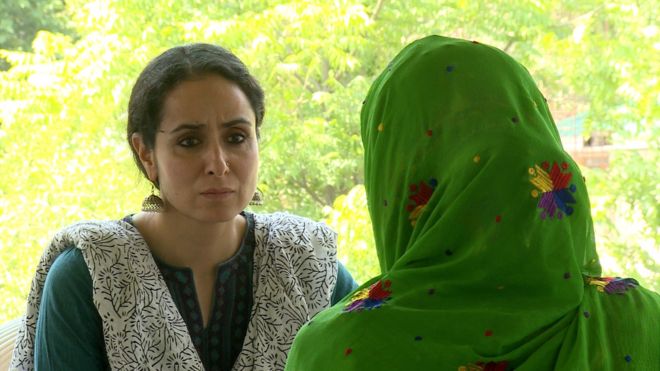 "We were getting ready for bed when the soldiers came. They took the men away. Some started drinking alcohol. I was holding my two-year-old daughter in my arms when they tried to grab me.
"I resisted, and in the scuffle she fell out of my arms, and out of the window. She was crippled for life.
"Three soldiers grabbed me, tore my pheran, my shirt - I don't even know what all happened after that. There were five of them. I still remember their faces."
Zareena was also in the same house. It had only been 11 days since her wedding.
"I had returned from my parents' house that very day.
"Some soldiers asked my mother-in-law about all the new clothes hanging in the room, so she told them, 'here, she is our new daughter-in-law, our new bride'.
"What happened after that, I cannot begin to describe it. We haven't just been wronged, what we have faced is an infinite injustice. Even today when we see soldiers we start shaking with fear."
The people of Kunan and neighbouring Poshpora accuse the Indian army of carrying out a planned mass rape of the women in these two far-flung villages. They also claim that while the women were gang-raped, the men were subjected to horrific torture, and that they have been fighting for justice these last 26 years.
In Srinagar when I spoke with a minister in the state government, Naeem Akhtar, about these allegations he said that in conflicts like Kashmir truth often gets obscured by the layer of dust that settles on it.
And now it seems a group of young Kashmiri women are determined to wipe this dust away.
http://www.bbc.co.uk/news/world-asia-41268906