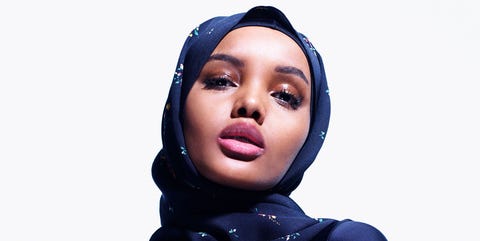 Last November, one photograph changed Halima Aden's life. Competing in her local beauty pageant, Miss Minnesota U.S.A., she wore her traditional hijab onstage. The image of Aden alongside a lineup of girls in plunging evening gowns opened a wellspring of online praise. Born in a Kenyan refugee camp, Aden moved to the United States at age six, her family settling in the burgeoning Somali-American community in St. Cloud, Minnesota. Today, as a college student suddenly armed with a following, she wishes to expand and redefine perceptions of young American Muslims. Aden spoke to her hero, Iman—a fellow Somali—about the importance of self-worth, the perils of representation, and the pride of the hijab.
HALIMA ADEN Oh my God, this is such a huge deal! Every time someone asks me who my inspiration is, I say Iman—someone who has broken the glass ceiling.
IMAN Oh thank you, but you have broken it yourself. The photos of you competing at Miss Minnesota were such a sensation.
HA I remember feeling so much gratitude, and I felt so proud of the media, because for a very long time they were pushing this negative image of Muslims.
IMAN I think often the West does not understand the history and the privilege of wearing a hijab. They always think of oppression.
HA Yeah, totally. I always tell them, "Just look around you, there are Muslim women who wear it and Muslim women who don't." We have to break the stereotype.
IMAN I'm going to be 62 years old in July. So the Somalia I grew up in—there weren't so many women who wore hijabs. When I was growing up there, we all wore traditional clothes. Most of the time we didn't even cover our heads. I've heard all types of critiques—as a Somali girl, as a model, as a mom, as a Muslim who does not wear a hijab, marrying a white man, my late husband David Bowie. But you know, I live my truth.
HA I love that.