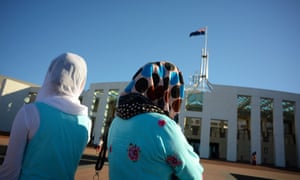 Good points made by this amazing sister, let them tell their own stories!
Within minutes of arriving to collect my professionally bound thesis, I found myself on the receiving end of an unsolicited and impenetrable rant about female genital mutilation.
"What's your paper on?" the shop owner inquired.
"It's on Muslim women and … ," I began, but before I could finish my sentence, he had launched into the subject.
The fact that I hadn't even mentioned the words "female genital mutilation" was irrelevant; merely saying "Muslim women" was a wide enough rabbit hole for him to dart down. My presence as a Muslim woman and my half-delivered topic were the only encouragement he needed.
That he felt authorised to deliver a lecture to me about his understanding of the allegedly sexist treatment of women in
Islam
, the very subject of my years-long PhD dissertation, didn't surprise me. This was not the first time a stranger had felt entitled to raise the potential religious interference of my genitals with me.
It's uncanny how often people try to demonstrate their concern about the alleged oppression of Muslim women by humiliating them. Even finding out the details of my research findings doesn't seem to deter them from baldly sharing opinions.
Full article