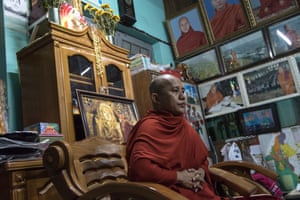 Islam represents only 5% of Myanmar's population of 54 million, but nationalists like Wirathu are pushing the idea that the faith puts
Buddhism
, and the very essence of Myanmar, in jeopardy. He claims the 1 million Rohingya Muslims living in precarious conditions in his country – described by human rights agencies as the most persecuted people on Earth – "don't exist".
"It only takes one terrorist to be amongst them," he says. "Look at what has happened in the west. I do not want that to happen in my country. All I am doing is warning people to beware."
Wirathu adds that if Donald Trump or Nigel Farage need some advice he will happily share his ideas. These include infiltrating the Facebook pages of Muslim groups, getting all Islamic schools to record their lessons, and government surveillance of internet activity, including emails. Wirathu claims he has his own army of individuals screening the net in
Myanmar
.
On the well-documented situation of the Rohingya in Rakhine state – where people have been left without access to medicines, aid, and basic human necessities such as clean water, sanitation and food – Wirathu is dismissive. The
Rohingya
have been mostly couped up in camps since the 2012 violence, and the silence of Myanmar's leader Aung San Suu Kyi and her National League for Democracy on their plight has attracted growing criticism.
Wirathu rejects the stateless Rohingya as illegal immigrants, a view echoed by the government. He will only discuss them if the description "Bangladeshis" is used, and even then Wirashu says the situation is not as it is portrayed.
"If it is true what [outsiders say], then I would offer help but I have visited the camps on many occasions. The aid agencies are refused access because they are using the refugees to fill their own pockets. Bangladeshis are posing for the media. They are not starving. They have so much food that they are selling it on in their shops – stealing even from their own."
On the allegations that women have been abused and raped by the military, he laughed: "Impossible. Their bodies are too disgusting."
There have been calls outside Myanmar for Aung San Suu Kyi to return her Nobel peace prize for her failure to tackle the situation with the refugees, which has broken her own promises on human rights.
Source