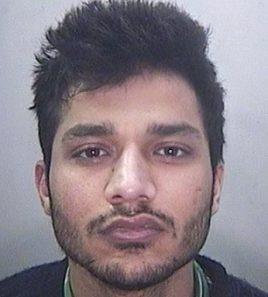 Deport this POS!
So, this guy, he goes by the name
Mohsin Akram
unleashed the barbaric animal inside him to deal with his poor wife who just did not prepare dinner for him. He said that he wanted to teach her
"how to be a good wife"
. He's 21 and before incurring his wrath on her reportedly told her,
"you've had your chance to be a good wife,"
reported prosecutor Stephen Donoghue. Afterward, he subjected her to a 10-minute attack. Not to forget, Mohsin was drunk and they were at their home in Cardiff.
The couple
met on Facebook in August 2013
and Mohsin got married to the girl since he wanted a visa to the UK. He would not allow his wife a cell phone with access to the Internet. It was also reported that during the night he attacked his wife, Mohsin returned home fully drunk. He lost his temper after finding out that his wife didn't cook dinner for him. Their four-month-old baby was present during the scene when the father beat the mother. She managed to flee the scene somehow after getting maimed and abused.
His wife, Mrs. Hussain, reportedly begged a group of girls out on the street to help her. One of the girls mentioned:
"Even though it was night-time, we stood underneath an outdoor light and could clearly see she had cuts and a bruise on the side of her hand."
Mohsin is now jailed for 15 months after pleading guilty but is not going to be deported back to Pakistan, unfortunately.
https://www.parhlo.com/pakistani-man-jailed-abroad/