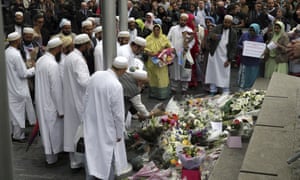 More than 130 imams and Muslim religious leaders have said they will refuse to say funeral prayers for the perpetrators of Saturday's attack in London.
In a highly unusual move, Muslim religious figures from across the country and from different schools of
Islam
said their pain at the suffering of the victims and their families led them to refuse to perform the traditional Islamic prayer – a ritual normally performed for every Muslim regardless of their actions. They called on others to do the same.
They expressed "shock and utter disgust at these cold-blooded murders", adding: "We will not perform the traditional Islamic funeral prayer over the perpetrators and we also urge fellow imams and religious authorities to withdraw such a privilege. This is because such indefensible actions are completely at odds with the lofty teachings of Islam."
Their move came as senior Muslims and community leaders said they would redouble efforts to root out extremism in their communities after
the attack in London
on Saturday.
The Metropolitan police commander for engagement, Mak Chishty, the highest-ranking officer of Muslim faith, called for "a step-change – a different direction and a different movement to counter the scourge of terrorism, extremism and hatred that we have in our communities at present".
In a statement he read out on behalf of Muslim communities, Chishty said: "It is the Islamic duty of every Muslim to be loyal to the country in which they live. We are now asking questions to understand how extremism and hatred has taken hold within some elements of our own communities."
Source