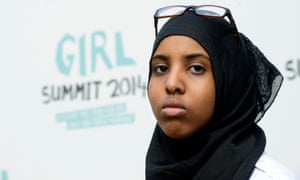 The teenager who led the
Guardian-backed campaign
to end female genital mutilation (FGM) has been awarded a doctorate for her campaigning work.
Fahma Mohamed, 19, who will be a doctor of law, is one of the youngest people in the UK to receive the honorary degree, which will be presented by Bristol University on Friday.
Mohamed said she was ecstatic at being awarded the doctorate. "This has been seven years of hard work, we had so many obstacles to overcome and struggles at the beginning because it was so taboo," she said. "It was fighting against something people were in denial about, it was hard for people to understand our point of view and for people in the community to be able to come out and say I am against this, too.
"But now people have completely changed. Of course there are still people out there who might not agree. But there are many people who have said that our work has broken the cycle of abuse in their family. I am so glad and thankful to everyone I have met on this journey, [who] has been willing to listen to me and others doing this work and given me the opportunity to help young girls out there."
Mohamed was 14 when, along with the Bristol-based charity Integrate, she started the campaign to end the practice of FGM in Britain.